WEET 10A 1000V GPP Bridge Rectifiers KBPC1010 Used in Power Circuit Rectification Products, Switching Power Supply, Power Adapter, LED Light Source Circuit, Charger, Refrigerator, Air Conditioner, TV, Vehicle Rectifier, Electromechanical Equipment.
Functions of bridge rectifier KBPC1010: AC input at the front end of rectifier bridge and DC output at the back end convert AC to DC, so as to realize the use of electric energy in the circuit. The bridge connection is adopted in the rectifier bridge, and the theoretical conversion rate is 100%.
The meaning of 1010 in KBPC1010 bridge rectifier:
The first "10" is the forward current (rated current) of the full bridge;
The second "10" is withstand voltage 1000V (maximum reverse voltage, digital * 100 times = 1000V)
Price is only an indicator in the process of purchasing products or services. It's not so considerate if only compare prices. Price, quality, service and word of mouth need to be considered together.
KBPC1010 single phase square bridge rectifier parameter specification:
Current: 10A; Voltage: 1000V
Application: mainly used in power circuit rectification products, switching power supply, power adapter, LED light source circuit, charger, refrigerator, air conditioner, TV, household appliances, small appliances and other related products, vehicle rectifier, electromechanical equipment etc..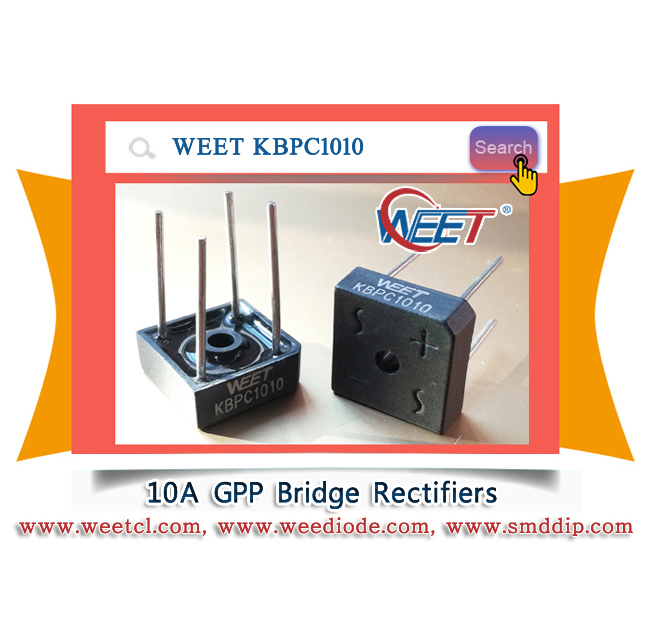 Skype, Email: info@weediode.com
WEE Technology Company Limited
Datasheets: http://www.weediode.com/DATASHEETS.html
Read More