WEE Technology Company Limited
We are WEE, We Enhance Efficiency
Manufacturer of Diode Rectifier, Bridge Rectifier, Transistor

Categories:Discrete Semiconductor Products
Diodes - Bridge Rectifiers
Manufacturer: WEET
Packaging: Bulk
Part Status: Active
Diode Type: Single Phase
Technology: Standard
Voltage - Peak Reverse (Max): GBU8005-50V, GBU801-100V, GBU802-200V, GBU804-400V, GBU806-600V, GBU808-800V, GBU810-1000V
Current - Average Rectified (Io): 8A
Voltage - Forward (Vf) (Max) @ If: 1V
Current - Reverse Leakage @ Vr: 5µA
Operating Temperature: -55°C ~ 150°C (TJ)
Mounting Type: Through Hole
Package / Case: 4-SIP, GBU
Supplier Device Package: GBU
Base Part Number: GBU810
Weight:3.5g

Details: https://weetcl.com/Single_Phase_Bridge_Rectifiers/WEET_GBU8005_THRU_GBU810.html
Specification: https://weetcl.com/pdf/WEET_GBU8005_THRU_GBU810.pdf

WEE Technology Company Limited is specialized in manufacturing diodes and bridge rectifiers. A-405, DO-15, DO-27, DO-35, DO-41, LL-34, LL-41, R-1, R-6, SMA, SMAF, SMAJ, SMB, SMC, SOD123, SOD-123FL, SOD-323, SOT-23, TO-220, TO-263, TO-277, MBS, MBF LBS, ABS, MBM, DB, DBS, WOM, MBM, KBP, GBP, KBL, KBU, GBU, KBJ4(3S), KBJ6(5S), BR6, KBPC6, KBPC8, KBPC/KBPC-W, BR/BR-W, BR-L, KBPC3(BR-3), GBPC, GBPCW, S35, S36, D4K etc.

All or our products meet RoHS 2.0 and Reach Standard. Our factory implemented ISO 9001:2015 and ISO 14004. Our quality policy is zero tolerance.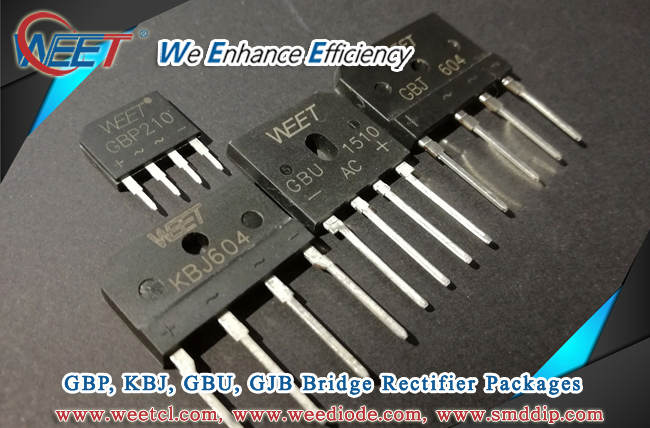 more product support: https://weetcl.com/Products/
Skype, Email: info@weediode.com
Written by WEE Technology Company Limited