WEE Technology Company Limited
We are WEE, We Enhance Efficiency
Manufacturer of Diode Rectifier, Bridge Rectifier, Transistor

WEET Glass Passivated Square Bridge Rectifiers 35A 1000V GBPC3510 Cross Vishay Semiconductors, Diodes Incorporated, ON Semiconductor, Comchip Technology, MCC, GeneSiC...

GBPC3510 Features:
Integrally molded heatsink provided very low thermal resistance for maximum heat dissipation
Surge overload rartings from 300 A to 400 A
Isolated voltage from case to lead over 2500 V
Terminals Finish Material - Silver (solderable per MIL-STD-202, Method 208 for the wire type GBPC-W package), - Nickel for GBPC package

GBPC3510 Applications:
General purpose use in AC/DC bridge full wave rectification for power supply, home appliances, office equipment, industrial automation applications.

Same serie:
GBPC12005, GBPC1201, GBPC1202, GBPC1204, GBPC1206, GBPC1208, GBPC1210.
GBPC15005, GBPC1501, GBPC1502, GBPC1504, GBPC1506, GBPC1508, GBPC1510.
GBPC25005, GBPC2501, GBPC2502, GBPC2504, GBPC2506, GBPC2508, GBPC2510.
GBPC35005, GBPC3501, GBPC3502, GBPC3504, GBPC3506, GBPC3508, GBPC3510.
GBPC50005, GBPC5001, GBPC5002, GBPC5004, GBPC5006, GBPC5008, GBPC5010.

GBPC12, GBPC15, GBPC25, GBPC35 GBPC50 stand for Maximum average forward rectified output current 12A, 15A, 25A, 35A.

SYMBOL 005, 01, 02, 04, 06, 08, 10 stand for Maximum repetitive peak reverse voltage and Maximum DC blocking voltage 50V, 100V, 200V, 400V, 600V, 800V, 1000V.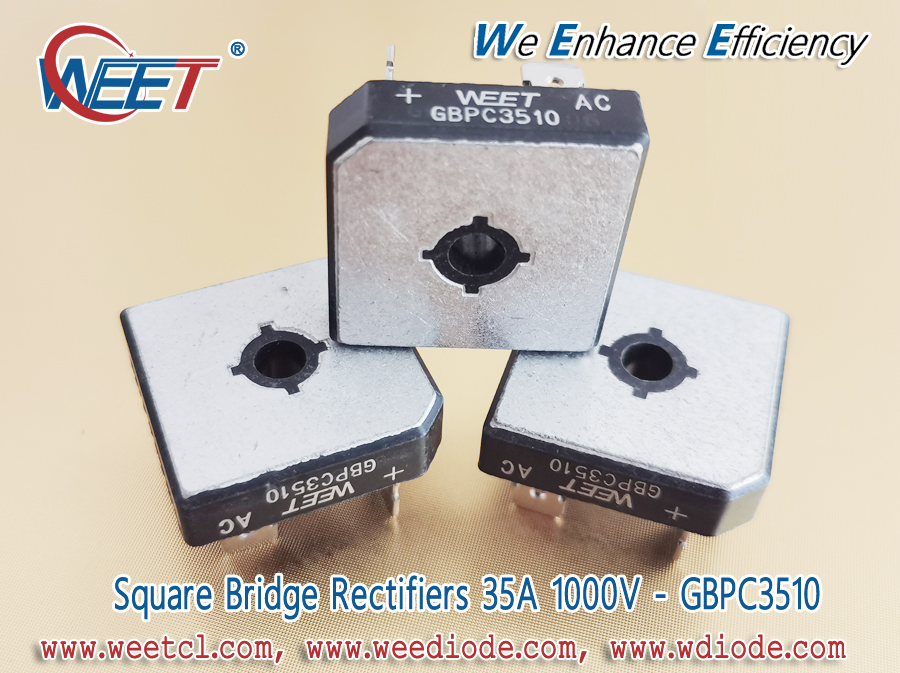 more product support: https://weetcl.com/Products/
Skype, Email: info@weediode.com
Written by WEE Technology Company Limited